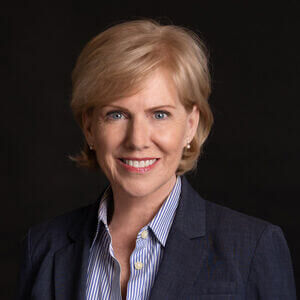 Mary D. Kane is a proven leader in state, federal and global organizations and joined the Maryland Chamber of Commerce as President & CEO in October 2021.
Kane has a rich professional history, most recently at the U.S. State Department as Director of the National Museum of American Diplomacy. An attorney, she also served as Secretary of State in Maryland from 2003-2007 and as Executive Director at the U.S. Chamber of Commerce from 2008-2011.
During her tenure leading the National Museum of American Diplomacy, Kane repositioned the organization by successfully reviving fundraising efforts and lobbying Congress to re-name and re-brand the museum to increase its public profile and interest in the history and significance of the U.S. State Department.
Kane also served as Chair of the Board of Trustees of Mount St. Mary's University from 2016-2021, and as President and CEO of Sister Cities International from 2011-2017, the national membership organization for individual sister cities, counties and states across the United States that promotes citizen diplomacy through partnerships in more than 140 countries.
"I am honored and excited to lead the Maryland Chamber of Commerce at this critical time," said Kane. "The pandemic has reminded us of the importance of our community and the need for strategic thinking. With the support of the Chamber's impressive Board, talented team of professionals and outstanding members, I look forward to strengthening the Chamber's position as the leading voice for business in Maryland."